This Information applies to:
X-Modem M3
Apple Airport Extreme 11n
Summary
This document explains how to connect and configure the Apple Airport Extreme 11n wireless base station with the X-Modem M3. These instructions relate to AirPort Utility v5.0 newer versions released by Apple may result in slight changes to the screens.
Instructions
Before connecting your X-Modem M3 to the Airport Extreme Base Station connect it directly to a computer and follow the standard set-up routine. Instructions are shown in the Quick Start Guide supplied with the modem. Once the connection is working you can proceed to configuring the Airport. Switch the X-Modem off (and the Airport Extreme if it is on) and attach the X-Modem to the wan port on the Airport.



Configuring the Airport Extreme for the first time.
| | |
| --- | --- |
| | If the Airport Extreme base station has not yet been installed, install the Apple Airport Software supplied with the base station. Use the Airport Utility, located in the utilities folder under Applications. |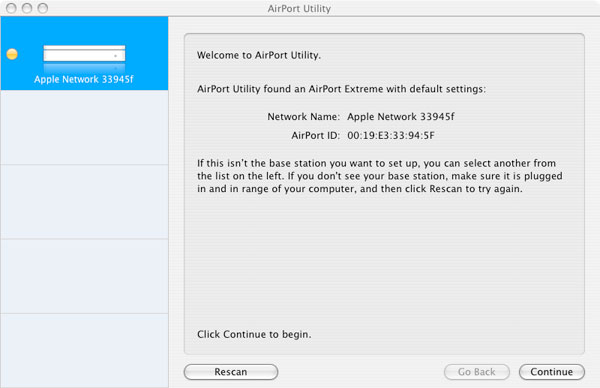 Select your Airport Extreme 11n Base Station and click continue.
Naming the Base Station and Wireless Network

The first task the Airport Assistant will ask of you will be to give your wireless network and base station names. Please choose a suitable name, in this example we have named our network "Airport Extreme" and the base station "Airport 11n".

Select Level of Security

You will be asked to to select the encryption type and to set a password to protect your wireless network. This password will be required by anyone who wants to join your wireless network. Choose the level of encryption and a password that suits your requirements and click continue to proceed.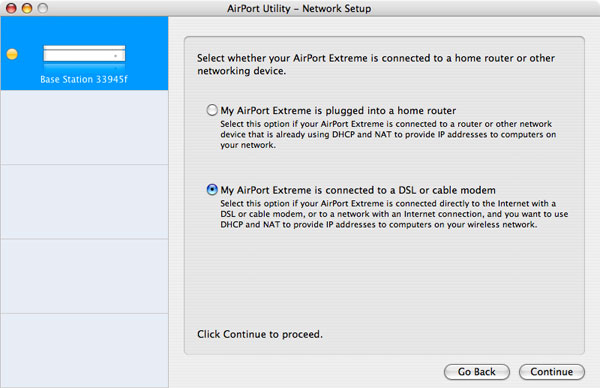 Select the option "My Airport Extreme is connected to a DSL or cable modem" and click contunue.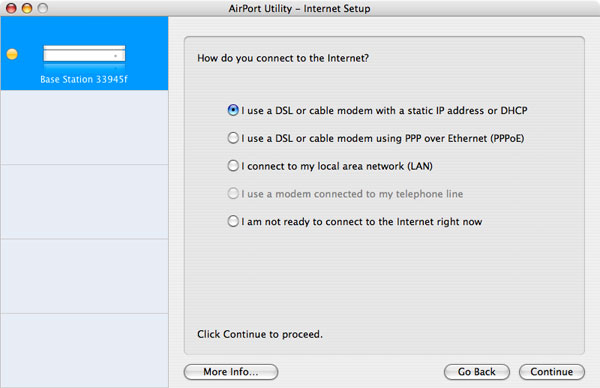 Select "I use a DSL or cable modem with a static IP address or DHCP" as the internet connection method and click continue.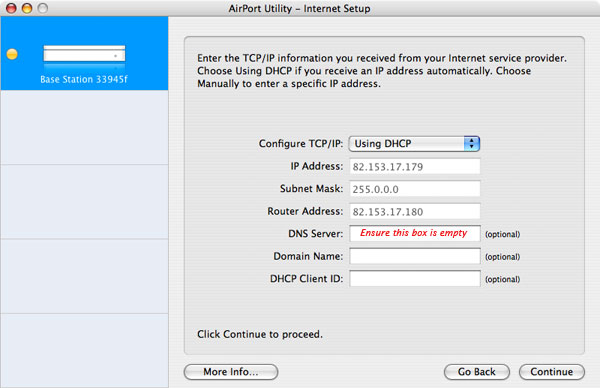 Set Configure TCP/IP to "Using DHCP" Some numbers may automatically appear in grey similar to those shown above.
IMPORTANT: Ensure the DNS Server box is empty, the box may be filled in automatically, any numbers that appear here must be deleted before proceeding.
The "Domain Name" and "DHCP Client ID" do not need to be filled in. Click continue to proceed.
USB Peripherals Setup

Configure the security options for USB disks connected to the Base Station. Choose either to use the same password as the base station or a separate one for accessing the disk. Refer to the Apple Airport Extreme documentation for more information on USB disk security options.

Base Station Password

Set a password to protect that will be used to obtain access to the Airport Configuration at a later date.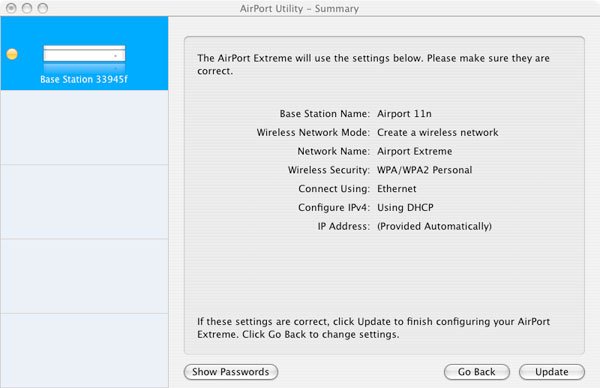 Click Update to complete the configuration.
Congratulations you now have high speed wireless internet access.
Keywords: X-Modem Airport Extreme
| | | |
| --- | --- | --- |
| Article ID: 00020 | Date Created: 16/03/2007 | Date Modified: n/a |