This Information applies to:
Mac OSX 10.5 Leopard
X-Modem M3
Summary
This document explains how to configure Mac OSX Leopard (10.5) network settings for use with an X-Modem M3. These instructions relate to Mac OSX 10.5 newer versions released by Apple may result in slight changes to the screens.
Instructions
Apple have updated the network configuration in Mac OSX Leopard, the screens shown in the Quick Start leaflet supplied with the X-Modem M3 therefore differ from those in Leopard. The default network settings should be correct, however the screen shot below shows what the network settings should look like.

Configuring the Network.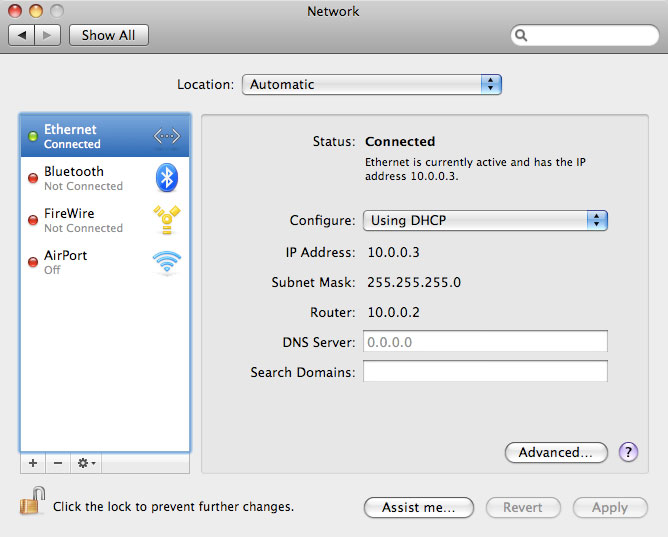 Select the "Ethernet" interface in the left hand pane, Ensure Configure "Using DHCP" is set. A green light indicates that the settings are correct and the computer is connected to the X-Modem M3. If the Using DHCP option is not available click on the location drop down menu and select edit locations, click the + symbol to create a new location. The new location will automatically be set to Configure "Using DHCP".
You can now proceed with the set-up instructions supplied with the X-Modem M3.
Keywords: X-Modem Mac OSX 10.5 Leopard
| | | |
| --- | --- | --- |
| Article ID: 00021 | Date Created: 30/10/2007 | Date Modified: n/a |