This Information applies to:
AMX-64
X-Modem
Buffalo Airstation
Mac OSX
Summary
This document explains how to adjust the MTU (Maximum Transmission Unit) settings to optimise your ADSL Service on Mac OS Panther 10.3.x.
BT Wholesale recommend an MTU setting of 1458 (bytes) and state that it is best suited to the performance of the ADSL broadband network.
Instructions
Ethernet
If your computer is connected via Ethernet (Not Airport) the MTU can be changed in the system preferences. System preferences can be found under the Apple Menu.

Click on the network icon to open the network preferences. Select "Built-In Ethernet" from the Show: menu.


Now click the button (Tab) labeled "Ethernet". The default setting is set to Configure: "Automatically". Change this to Configure: "Manually (Advanced)"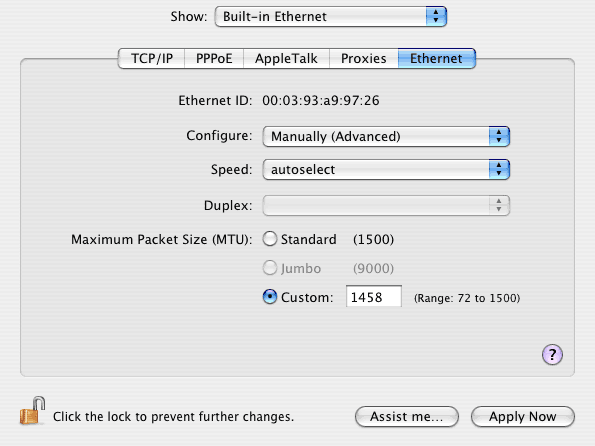 Under the section Maximum Packet Size (MTU) select the Custom option and type 1458 in to the box. Click Apply Now to apply settings.
Changes are complete.
Instructions for configuring MTU with Airport are currently being produced.