This Information applies to:
X-Modem
Belkin F5D7230 Wireless DSL/Cable Gateway Router

Summary

This document explains how to connect and configure the Wireless DSL/Cable Gateway Router with the X-Modem.
Instructions
It will be necessary to connect the X-Modem directly to an ethernet equipped computer, to perform configuration changes before connecting to the Belkin router. Set-up instructions are shown in the Quick Start Guide supplied with the modem.
For best performance the X-Modem should be running version 1.2.1 firmware or higher. The firmware version information is shown in the main console window.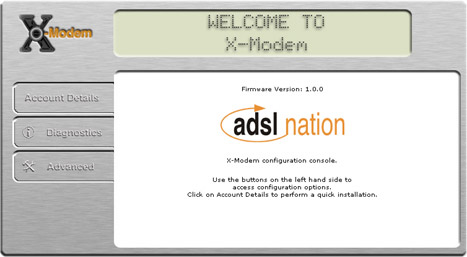 Once the X-Modem has been configured click on the Advanced button and then click LAN Configuration. The Ethernet mode must be changed from "AutoSense" to "10 Half" as the Belkin F5D7230 will not recognise the X-Modem in the AutoSense mode.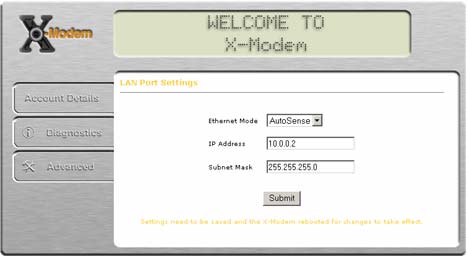 Connect the X-Modem to the WAN port on the Belkin F5D7230
Configuring the F5D7230.
If the F5D7230 has not yet been installed, install the Software supplied with the F5D7230 and follow the setup procedure. To use your F5D7230 with an X-Modem it may be necessary to update the firmware to the latest X-Modem compatible firmware revision currently 3.08. Please note you must use this version or a newer version of firmware the older 2.xx versions are not suitable.
Congratulations you now have high speed wireless access !