This Information applies to:
Buffalo WBR-G54 Wireless Router
Buffalo WBR-G11 Wireless Router
Summary
This document explains how to update the firmware on Buffalo wireless broadband router.
Instructions
Download the latest AirStation compatible firmware revision currently 2.04.
Updating Airstation Firmware
Please be aware that after upgrading firmware, the Airstation's settings will be reset to factory default.

Follow the installation guide to connect to the HTTP Admin console thorough your browser.

Input "root" as the username with no password.

Unzip the Firmware image from the downloaded file.

Select "Management" from the menu and click "Firmware update".

Browse for the unzipped Firmware file and click the "Firmware Update" button.

Follow the instructions to complete the update.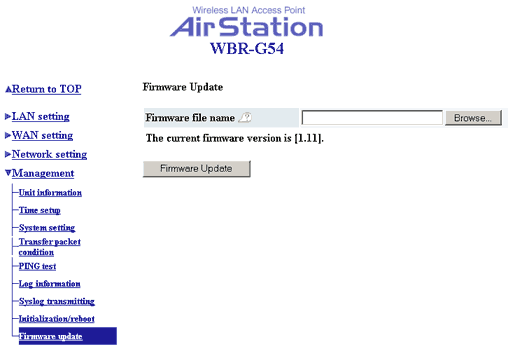 When the update is complete the Airstation will reboot and you will be asked to close the browser window. Close the browser as requested and then open a new browser window. For best results the Airstation WAN port speed should be manually configured to 10Mbps Half-Duplex to remove any complications with auto speed negotiation.