This Information applies to:
X-Modem
Buffalo WBR-G54 Wireless Router
Buffalo WBR-G11 Wireless Router
Summary
This document explains how to connect and configure the Buffalo wireless broadband router with the X-Modem.
Instructions
IMPORTANT: We reccomend that the latest Airstation firmware is used with an X-Modem. The Airstation firmware must be at least revision 1.30 in order for it to be compatible with the X-modem.
Configuring the Airstation.
If the Airstation has not yet been installed, install the Buffalo Air Navigator Software supplied with the Airstation and follow the setup procedure. When the standard set-up procedure is complete one further configuration change is required. To achive the best performance and stable connection the wan port speed should be set manually to 10Mbps half-duplex.
While it may seem the most logical thing to do would be to use the 100Mb mode this is not the case. As your ADSL connection will typically be capable of between 0.5Mb and 4Mb using the 10Mb mode far exceeds the capability of your ADSL line. Running at 10Mb means that the connection is more robust (less prone to packet retransmits due to interference) and has a lower latency than using the 100Mb mode. To configure the WAN port speed do the following.
Connect to the HTTP Admin console thorough your browser.

Input "root" as the username with no password.

Click on the Advanced button.

Select "WAN setting" from the menu and click "WAN Port".

Change speed from "Auto negotiation" to "10Mbps half-duplex.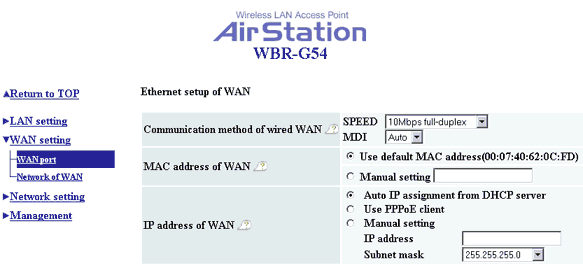 | | |
| --- | --- |
| | Ensure the X-Modem is switched off. The modem can now be connected to the WAN port on the back of the Airstation. Switch on the X-modem after it has completed booting and both the ADSL and LAN lights are solid your connection is complete. |
Configuring the X-Modem
Follow the standard setup routine and test your Internet connection as shown in the Quick Start Guide supplied with the modem.
For best performance the X-Modem should be running version 1.2.1 firmware or higher. The firmware version information is shown in the main console window.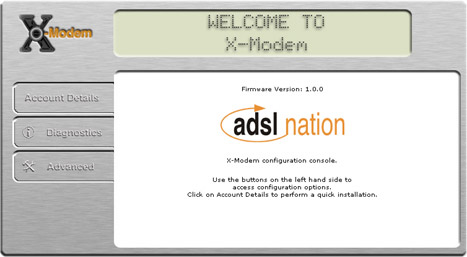 Congratulations you now have high speed wireless access !