This Information applies to:
X-Modem
Apple Airport Extreme
Summary
This document explains how to connect and configure the Apple Airport Extreme wireless base station with the X-Modem.
Instructions
Before connecting your X-Modem to the Airport Base Station connect it directly to a computer and follow the standard set-up routine. Instructions are shown in the Quick Start Guide supplied with the modem.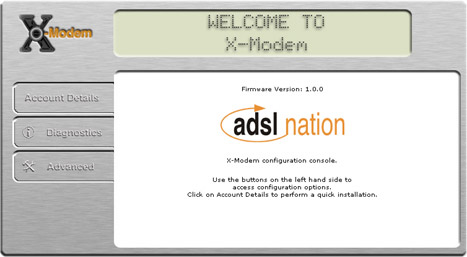 Configuring the Airport Extreme for the first time.
| | |
| --- | --- |
| | If the Airport Extreme base station has not yet been installed, install the Apple Airport Software supplied with the base station. Use the Airport Setup Assistant, located in the utilities folder under Applications. If you have already configured the base station please skip this section and start at "Airport Admin Utility Options" |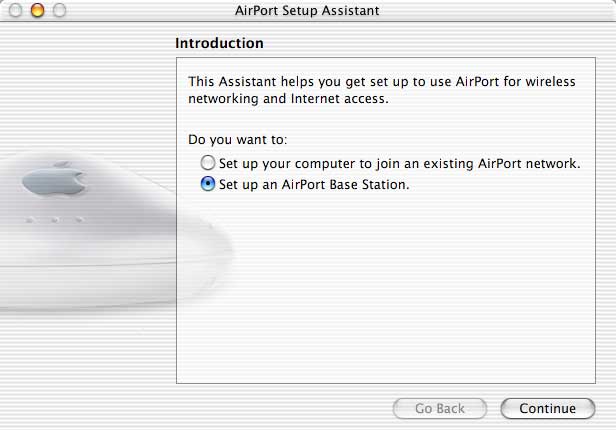 Select "Set up an AirPort Base Station" and click continue.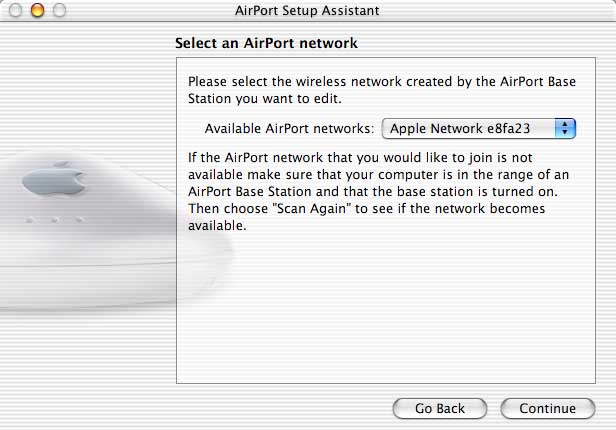 Select the Airport Extreme Base Station from the drop down list and click continue.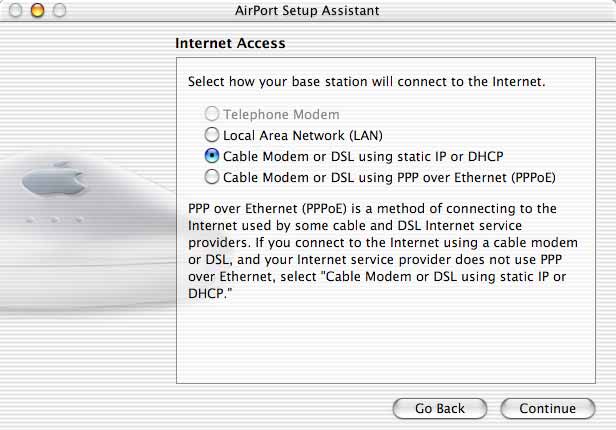 Select "Cable Modem or DSL using static IP or DHCP" as the internet connection method and click continue.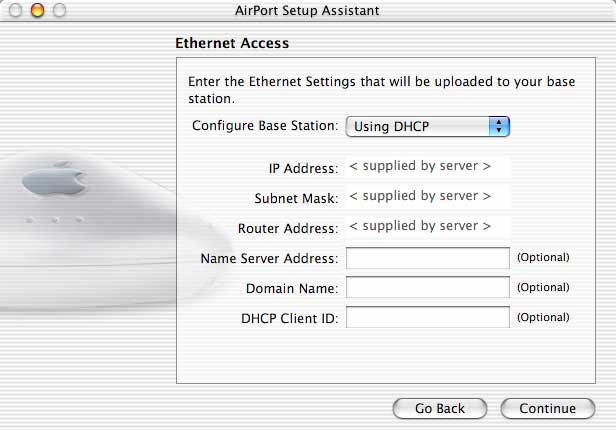 Select Configure Base Station "Using DHCP" and make sure the Name Server Address box is empty.
Click Continue.
You will be asked to to set a name and passwords for your base station. Choose a name and password that suits your requirements and proceed through the procedure until complete.
Airport Admin Utility Options
| | |
| --- | --- |
| | Assuming the base station has previously been configured for your network. Using the Airport Admin Utility provided with your Airport, configure the base station to work as a NAT router by changing the following settings. |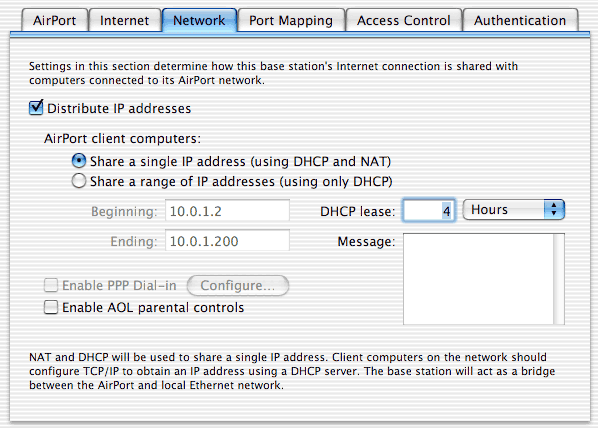 Internet Tab
The X-Modem will handle the internet connection so you will no longer have to use the internet connect utility to dial the internet. The Airport Base Station needs to be configured to connect using ethernet and configured using DHCP in order to use the X-Modem for internet access.
Network Tab
The Airport handles DHCP and NAT (internet sharing) so these services must both be turned on in the Base Station. This means that the wireless clients will get an IP address assigned by the DHCP server built in to the Airport. The option "Distribute IP Addresses" must be checked and "Share a single IP address" should be selected.
Finishing Up.
Now update the base station by clicking the Update button.
The X-Modem can now be connected to the WAN port on the back of the base station.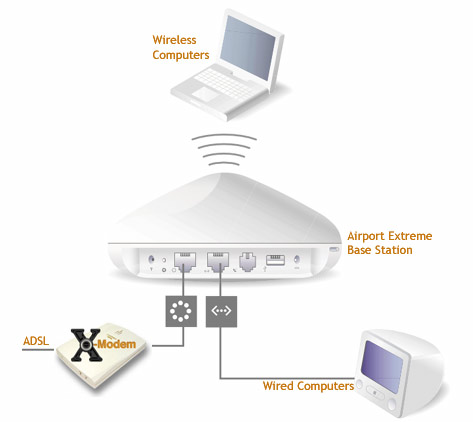 Congratulations you now have high speed wireless access !
Troubleshooting
Q: I have followed all the instructions, the modem works fine when connected directly to the computer but not via Airport.
A: Switch off both the X-Modem & Airport base station. Switch the X-Modem back on and wait for the link ADSL light to go solid, now switch on the Airport Base station. This will ensure that the Airport recieves internet settings from the modem.