This Information applies to:
AMX-64
Buffalo Airstation
Microsoft Windows
Summary
This document explains how to adjust the MTU (Maximum Transmission Unit) settings to optimise your ADSL Service.
BT Wholesale recommend an MTU setting of 1458 (bytes) and state that it is best suited to the performance of the ADSL broadband network.
Instructions
A free utility to change the MTU value of your network interface can be downloaded from the following location.
http://www.dslreports.com/front/drtcp.html
There are several versions listed on the page, make sure you download the most recent one.
Open the DrTCP utility and select your network adaptor used to connect to the internet from the drop-down list.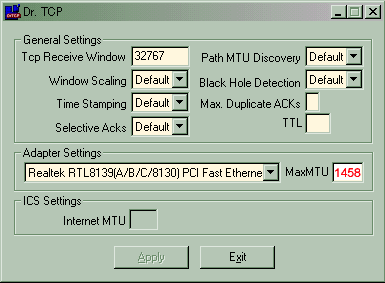 Change the MaxMTU value to 1458 and click Apply. Changes are complete and permanently saved. The computer may need to be rebooted for changes to apply.